Well, looks like one of the most popular non-canon DBZ characters is about become canon in the latest Toriyama-penned movie coming out later this year.

2018 "Dragon Ball Super" Theatrical Film Revealed as Broly Movie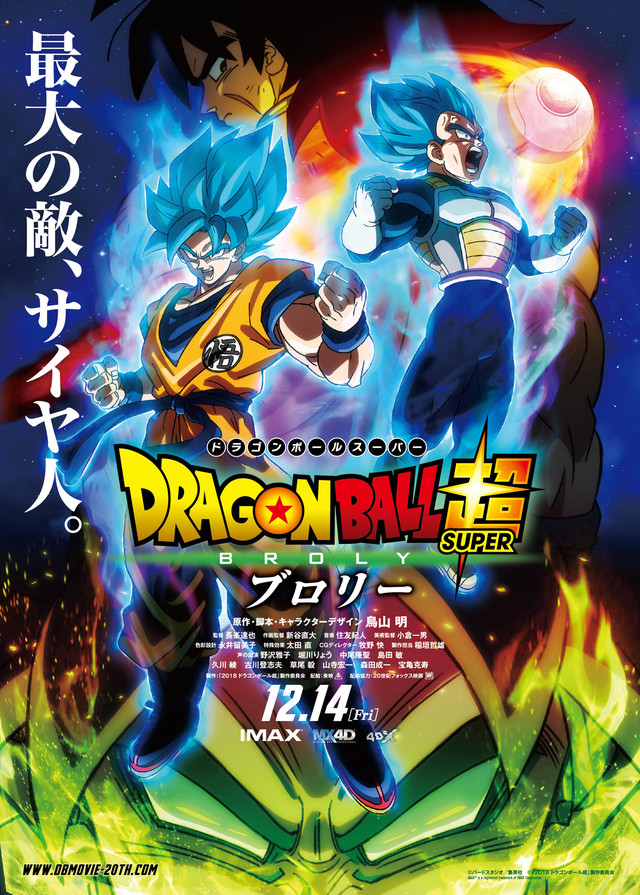 Everyone, are you familiar with Broly?
He's an incredibly strong Saiyan who only appeared in the old anime movies, and I apparently at least drew the designs for him, but I had practically no involvement with the anime at the time, so I had totally forgotten about the story content.

So, about Broly. I hear these days, he's still very popular not only in Japan, but also overseas. Based on that, my editor suggested we have Broly appear in this next movie.

I went ahead and watched the movies from back then, and I felt this could be quite interesting once I rearrange some things. I got right to work trying my hand at a story that incorporates him into the Dragon Ball Super series.

While keeping in mind Broly's classic image so as not to disappoint his fans, I updated him and added a new side to his character, and I think this has resulted in a more fascinating Broly.

Naturally you'll get to see fierce combat, but also, the paths of destiny that lead to an encounter between Goku, Vegeta, and Broly. It also involves the Frieza Force and the history of the Saiyans, which end up having a major connection to everything. The story content turns out to be very large-scale and dramatic.

Here comes that almighty Saiyan, Broly! I'm also including lots of other content all you fans will enjoy, so look forward to it, and be patient a while longer for it all to come together!!
EDIT: Well, that didn't take long. Funimation has already announced the US and Canadian releases for the movie. Similar to the previous two DBZ movies, this film will have a limited theatrical run sometime next January, with home video and streaming releases sometime after.
Edited by Billy "Buford" Morgil, 13 July 2018 - 04:22 PM.