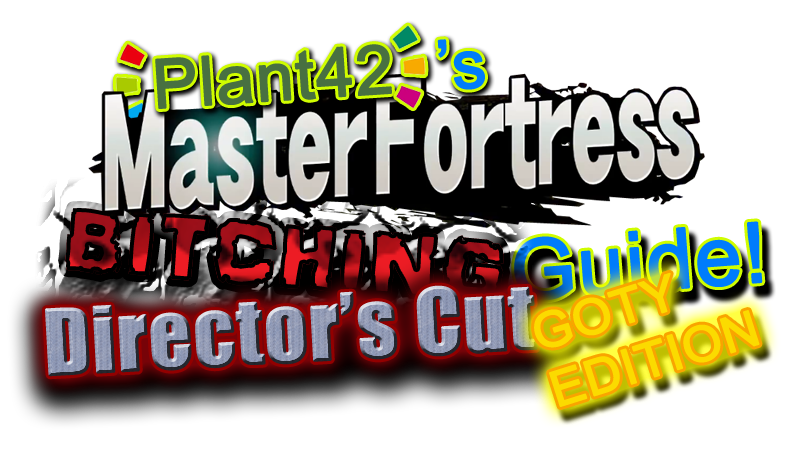 So, I posted a guide for defeating Master Fortress in the "general Smash4U" thread, but I decided to make it its own thing in this thread. I also improved it! Behold, THE DIRECTOR'S CUT!!! In this exclusive version, you will find... A SMALL CORRECTION AND TYPO FIXES!!
AND NEW FONT COLOR REMINISCENT OF MASTER FORTRESS'S PURPLE HUE!!!
And a more obnoxious banner utilizing even more extraneous Photoshop layer styles!!!
Let's begin! Exclusive Director's Cut content is colored Orange!
• When Master Fortress emerges, no matter how much % damage you have (well, unless you're like, near 200 and don't feel confident), enter the fortress without picking up the heart piece. The trip to the first "ball" is benign. You're in a corridor with a very low ceiling, which makes it possible to take hits without getting KO'd.
• When you encounter a Stalfos or Laser Turret (herein "Turretfags"), GRAB AND THROW THEM!!! Stalfos will annoyingly shield against your attacks, and Turretfags will superarmor until defeated or launched away; however, both of them can easily be thrown, and once they are downed, you may continue to attack them to death. Often they may be thrown into the Acid/Killzones.
• If you get struck by the Turretfag's Faglaser™, rapidly press the control stick IN THE DIRECTION OF THE BEAM! Logic tells you to tap perpendicular to the beam, but Sakurailogic® dictates your path of least resistance is directly towards the beam's source. Do this enough, and you will soon be behind the Turretfag, ready to either kill his ass, or simply run past him if he is no longer a threat.
• Destroy the first ball!
• Head back to the Fortress entrance. You will encounter a ghost enemy with a big ass ball shield projectile shit (herein "Ghostfags"). When he has the big fucking ball around his body, DO NOT TOUCH HIM! He will float around, sometimes in your general direction, and then shoot the giant ball horizontally towards you. Once he does, hit him several times and fuck him up before he generates another ball.
• Return to the FD platform and recover your damage if needed. If you have only 20% damage, it might be smarter to hold off on recovering your health; it will remain there until later.
• Take the next available path upwards. You will find Turretfags. Quickly dispatch them as detailed above. You will also encounter Tektite-Geemer Love-children (herein "Geemerfags"). These may be the most annoying of all enemies, as they may not be grabbed and they cause damage on contact. Kill what you need to kill, and make your way to the end of the corridor
• Be careful NOT to touch any yellow surface, as it is a killzone. You will need to short-hop so you do not hit your head on the yellow bullshit. Then fall down. You will fall onto a safe platform below; it's safe to go quickly a la Stone Kirby.
• Kill the Turretfag immediately to your right. Smash attacks or other launch-heavy moves are better against this fucker, as he is out of range. Launching him is all you need to do, as he will land in the acid pool below and get rekt.
• Make your way all the way to the left wall where there is another Turretfag. Watch out for the small spikes on the left edge of a central floating platform. Get BEHIND the Turretfag and either throw him or launch him to the right. He will probably hit the Geemerfag on a neighboring platform and clear the coast for apparent Ball 2 bitching. If not, then clear the area of remaining enemies yourself.
• Go to the top left where the ball is. Give it one good hit (more than a pussy amount of damage), and suddenly you will be accompanied by a new wave consisting of a Turretfag and 2 Geemerfags. Ignore the Ball 2 and quickly go down to the right, where the new Turretfag will be. Throw him towards the Geemerfags or whatever you want to do to kill them.
• Destroy the second ball!
• The screen will transition and you will lose control. Don't worry about taking damage in this phase. In fact, have fun and TRY to fall into the yellow zone; you won't take damage.
• You'll be thrown back onto the FD platform. This is a good time to collect the heart piece, as you've likely taken a decent amount of damage (and even if you haven't, it takes longer to get back to it than I care to spend).
• Proceed all the way to the right again through the familiar, avoiding the new extra yellow shit, and dispatching the Turretfags and Stalfos like before; THROW THEM IF NEEDED!
• When you reach the 3rd ball, you will have the company of a Geemerfag and a Ghostfag. If you're slick like Plant42, you can BackAir the Geemerfag on your way down, causing him to launch into the Ghostfag (floating a bit above to the right) and kill them 2-for-1. If not, then follow the procedure for Ghostfag rekage detailed above.
• Destroy the third ball!
• At this time, all this black Master Core Powder Shit™ will chase you. Don't be a puss; just stand there and let it go past you. It won't hurt you, and that's the safest thing to do if you don't know where you're going, as the terrain is about to change.
• Go left and delve down into the hole, avoiding the yellow shit. This hole is also safe to quickly plummet into, as there is a platform directly below, above a pool of acid shit.
• 2 Stalfos will spawn directly to the right of you on small platforms. It is best to avoid these fagnuts, as they aren't easily accessible for grabbing and they shield all your attacks. Just AirDodge or whatever you want to do to get past them, but don't stick around to fight them. They will NOT chase you. Just make your way to the right, and drop down one last time.
• You'll drop into a short, small corridor with a few Geemerfags. The best course of action against these fuckers is a Dash-A. Just send them flying to GTFO.
• Jump over the pool of acid and you'll face a Stalfos and Turretfag. Grab both of these, and throw them either into the yellow shit in the wall/ceiling right next to you, or into one of the neighboring pools of acid.
• Ignore the heart-pounding music. Don't be a pussy. You have time.
• Proceeding, you will find another Turretfag spawn on the platform. Launch him off into the acid.
• Move upwards and you'll find a Turretfag to the right and 2 Ghostfags spawning to the left. Defeat them in any way to your liking.
• Once the room is cleared, proceed to the 4th and final ball. Give it a good hit, and then you will trigger the final wave of enemies--another pair of Ghostfags (which shoot rapid-shot beams at you towards the yellow killzone right next to you), and another Turretfag below.
• If you are beast enough, you can finish destroying the ball before the enemies get in your way. If you want to play it safe, jump down and kill the fuckers so they can let you finish the final ball in peace.
• Destroy the fourth ball!